Steel · Stainless Steel · Brass · Copper · Aluminum · Monel · Inconel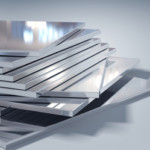 Die-Cut Products keeps an extensive inventory of metallic shim stock in sheet and coil for all of your stamping, shim and spacer needs. We can provide parts from prototype up to production volume in materials as thin as 0.0005″ and up to 6″ thick.
When it comes to metallic fabrication we have also aligned with an extensive list of vendors offering metal finishing for the aerospace, technology and other high-tech industries. Whether your part requires anodize, CAD plate, passivation or any other finishing, let us provide you a one-stop shopping experience for all of your fabricated metal products.
Here is a list of many of the metallic materials we can offer:
· Stainless Steel (CRES)
· Low Carbon Steel (CRS)
· Spring Steel
· Aluminum
· Copper
· Brass
· Beryllium Copper
· Bronze (Phosphor)
· Titanium
· Hastelloy
· Inconel
· Monel
· Elgiloy
· Wire Cloth (Mesh)
· and MANY MORE!