Stainless Steel · CRES
Stainless steel material is available when requirements demand added resistance to corrosion, staining and rust as compared to other steels. We offer stainless shims and precision stampings in thicknesses ranging from 0.001″ up to 0.250″ in the following grades:
301 stainless steel
302 stainless steel
304 & 304L stainless steel
316 & 316L stainless steel
321 stainless steel
410 stainless steel
18-8 stainless steel
Laminated stainless steel ( in .002/.003 laminations )
We stock a broad spectrum of stainless steel grades, types and tempers for your custom fabrication needs. All materials are available with full chemical and physical test reports right from the mill, providing melt and heat/lot data. Need DFARS-compliant material? We offer that too!
Benefits of Stainless Steel
A major benefit to using stainless steel is that it does not stain, corrode, or rust as easily as ordinary steel, making it an ideal choice for shims. It is also called corrosion-resistant steel or CRES when the alloy type and grade are not detailed. Stainless steel differs from carbon steel by the amount of chromium present. Stainless steels have sufficient amounts of chromium present so that a passive film of chromium oxide forms which prevents further surface corrosion and blocks corrosion from spreading into the metal's internal structure.
Die-Cut Products stocks a variety of stainless steel grades and tempers, including quarter-hard, half-hard, full-hard, annealed, and others. If you have a specialty need for a grade or temper of stainless steel not listed here please let us know, and we'll be happy to assist you.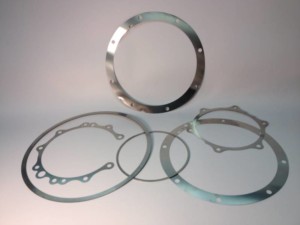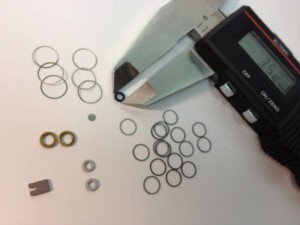 Applications & Industries
Stainless steel is primarily used for shims, washers and spacers. In general, austenitic stainless steels are known for their excellent atmospheric corrosion resistance in both oxygenating and non-oxygenating environments and its resistance to staining. Austenitic stainless is non-magnetic in the annealed form and can increase in magnetic permeability during cold forming.
Just a few of the industries where stainless steel shims, stampings, washers, and spacers are used include:
Medical & Healthcare
Aerospace
Military and Defense Equipment
Fluid Processing Equipment
Construction Equipment
Mining Equipment
Architectural
Material Handling
Packaging
Compressors
Petrochemical
HVAC
Please contact us today!