Polystyrene · Polyethylene · Polypropylene · PVC · EVA · Polyurethane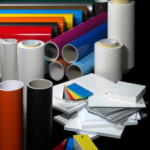 Plastics have a wide variety of applications, from stiffeners to shims. Foams formulated from plastic substrates can be as diverse, from filters to shock pads. At Die-Cut Products we work with plastics and foams for all your needs such as: medical, safety, liquid absorption, and general industry.
With our extensive ADHESIVE options, we can also laminate materials together, to create a hybrid foam for your application. Need foam applied to a metal product? Or a fiber backing with a foam overlay? We have the expertise and knowledge you'll need to take your project from PROTOTYPE to production!
We can die-cut plastic sheeting, but also offer some machining of thicker plastic applications. And for both plastics and foams, we can WATER-JET CUT when your volume demands a low cost alternative.
Some of the plastics and foams we can offer are:
· ABS Plastic
· Acetal
· Acrylic
· Coroplast® Corrugated Sheet
· Expanded PVC
· Filter Foams
· Fire Retardant Foams
· High Impact Polystyrene (HIPS)
· Insulation Materials
· KYDEX® Thermoplastic Sheet
· Makrolon® Lumen XT
· Noryl®
· Nylon
· PAI
· PBT
· PEEK
· PET
· PETG
· Polycarbonate
· Polyethylene
· Polypropylene
· Polysulfone
· Polyurethane
· PORON® Microcellular Urethane
· PPS
· PTFE
· PVC
· PVDF
· SentryGlas (DuPont™ SentryGlas®)
· Radel R®
· Thermoset Composites
· Thermoplastics
· Ultem
· Vespel® Polyimide
· Volara® (Sekisui Voltek)