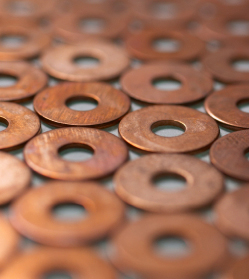 __________
Shims are typically thin products used to fill gaps, to make something level and/or adjust it to fit properly. These items are frequently the last item installed in a product to make up for inconsistencies in other production methods, such as casting. Common in pumps throughout the aerospace industry, our custom shims have become a vital part of the assembly process.
For years Die-Cut Products has offered custom made shims, providing selections from our far-reaching list of standard in-house washer tooling. If your shim need requires a custom shape, we offer a wide variety of options, such as low-cost tooling made in-house on our Wire EDM. That same machine can also provide PROTOTYPE or small run production shim orders. And where applicable, we can provide LASER CUT or WATER JET CUT parts right to your door step, no matter how complex the shape or how tight the tolerances.
Are your custom shims metallic or non-metallic? Do you need tight tolerances or thin (down to 0.0005")? Do you need custom or exotic shapes? Will it be a small to medium run volume?
If you answered yes to any of these questions, you've come to the right place!