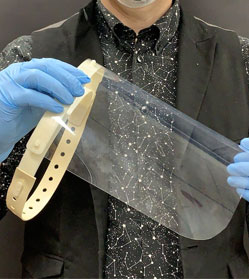 For nearly a century Die-Cut Products has continued to provide high quality precision gaskets, shims, and custom laser cut prototypes to a variety of industries. This year, as a government mandated essential business, we've expanded our operations to help provide PPE (Personal Protective Equipment) to healthcare workers around the globe.
From Face Shields and Face Shield straps, to aluminum nose bridges on N95 masks, we can die cut and stamp a variety of metals and plastics for all of your healthcare/PPE needs.
Some of our alliances include: MAGNET: The Manufacturing Advocacy and Growth Network, Cleveland Clinic Foundation, White Label Face Shields, Case Western Reserve, and others. We worked as a second-tier supplier to help in Governor Mike DeWine's call to help manufacture PPE for first responders dealing with the Covid-19 Pandemic in Ohio.
Materials for Face Shield Manufacturing:
We can custom fabricate from any plastic you desire. Typical applications call for optically clear substrates, where PET (also abbreviated PETE), short for polyethylene terephthalateplastic, has been one of the most in-demand. In PET we can source any thickness from 0.18 to 0.5 millimeters (0.007 to 0.020 inches). We also offer PETG (Glycol Modified) options.
Another popular face shield material is Polycarbonate (PC) thanks to its rigidity. This material is generally more expensive, but PC may be cleaned in an autoclave without damaging the material, allowing for re-use and providing long term cost savings.
Materials for Face Shield Strap Manufacturing:
The straps for face shields we have been die cutting have included Natural Rubber, Synthetic Rubber, & Silicone Rubbers in a thickness around 0.8 to 1.6 millimeters (1/32 to 1/16 inch) and a Shore A hardness of 40 – 55. Other materials are available; inquire today!

Contact Us
If you are in need of a quote or would like to see how we could help in the manufacturing of your bulk PPE please contact us today! From samples, to thousands of units per day, we offer a scalable option for all clients.



or call: (216)771-6994