Thermal Management & Interface · EMI/RFI · Shielding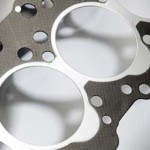 As a leading manufacturer of gaskets world-wide, Die-Cut Products can provide fabricated parts from a multitude of materials. From fluid sealing materials for industrial and manufacturing applications, to thermal management materials for electrical components, if you can find the material, chances are we can cut it!
If you need a custom gasket made from compressed non-asbestos gasketing materials, or a thermally conductive insulator pad made from the latest offerings from Parker/Chomerics, we're your one-stop shop for anything in the gasket world. Pressure-sensitive ADHESIVES can be applied to most types of EMI/RFI shielding materials, including conductive elastometers.
And remember, if you do not see the material you're looking for listed here, please give us a call. We may not have listed it here, but chances are good we can work with it, and may even have some raw stock inventory on the shelf awaiting your order today!
We fabricate from such popular vendors as:
· FUJIPOLY (Sarcon®)
· CHOMERICS (Cho-Therm® – Cho-Seal®)
· THERMOSEAL (Klingersil®)
· GARLOCK (Blue-Gard®)