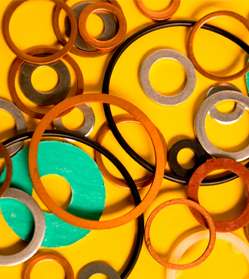 __________
Established in 1944, Die-Cut Products is an internationally recognized supplier of gaskets, shims, and custom fabricated parts, servicing thousands of accounts world-wide.
As a supplier to OEM's, the Government, automotive, aircraft, computer, health care, medical, aerospace and defense industries, we've maintained a quality record second to none. Our quality system conforms to Mil-I-45208, and our SPC plan and extensive operations manual are the heart of our Quality Assurance Program.
Die-Cut Products Company offers fabricated products from various materials, both METALLIC and NON-METALLIC. Whether you need SHIMS for your fluid control device, or custom GASKETS for sealing a medical device, we truly are a "one-stop shop" offering products that can be constructed in both flat (2D) and formed (3D) shapes. Our fabrication capabilities are limited only by what you can imagine!