Beryllium Copper
Beryllium copper combines high strength with non-magnetic and non-sparking qualities, and it has excellent metalworking, forming and machining properties. It has many specialized applications in tools for hazardous environments, musical instruments, precision measurement devices, bullets, and aerospace. Beryllium copper is a ductile, weldable, and machinable alloy.
We offer beryllium copper in a broad range of thicknesses in the following grades:
Alloy 25 beryllium copper (C17200 & C17300)
Tempered beryllium copper (Age hardened and cold drawn)
Alloys 3 (C17510) and 10 (C17500) beryllium copper
High conductivity beryllium copper alloys
We stock a broad spectrum of beryllium copper grades, types and tempers for your custom fabrication needs. All materials are available with full chemical and physical test reports right from the mill, providing melt and heat/lot data. Need DFARS-compliant material? We offer that too!
Benefits of Beryllium Copper
Beryllium copper materials offers excellent electrical conductivity, which allows it to be used in low-current contacts for batteries and electrical connectors. Beryllium copper has found use in ultra-low temperature cryogenic equipment, such as dilution refrigerators, because of its combination of mechanical strength and relatively high thermal conductivity in this temperature range.
Die-Cut Products stocks a variety of beryllium copper grades. If you have a specialty need for a grade or temper not listed here please let us know, and we'll be happy to assist you.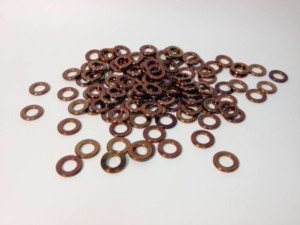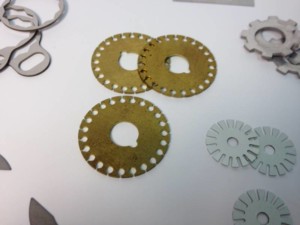 Applications & Industries
Just a few of the industries where Beryllium Copper shims, stampings, washers, spacers, and other products are used include:
Medical & Healthcare
Aerospace
Military and Defense Equipment
Fluid Processing Equipment
Construction Equipment
Mining Equipment
Architectural
Material Handling
Packaging
Compressors
Petrochemical
HVAC
Please contact us today!