Wire Cloth – Metal Mesh
Wire cloth & metal mesh materials are typically found in applications that require screening, sorting, or have general filtering needs. These include vibratory or gyratory separators, as well as a wire cloth metal sieves. Wire cloth is offered in a variety of sizes, and materials, such as stainless steel wire mesh. Mesh materials can be woven, filter style, or welded. Each material style and mesh carries a unique purpose, as tailored to your specific raw material needs.
Die-Cut Products can provide custom stamped (and formed) wire cloth precision stamping in various styles, materials, and thicknesses. All materials are available with full chemical and physical test reports right from the mill, providing melt and heat/lot data. Need DFARS-compliant material? We offer that too!
Die-Cut Products can source any wire cloth mesh material you need. If you have a specialty need for a specific grade or type please let us know, and we'll be happy to assist you.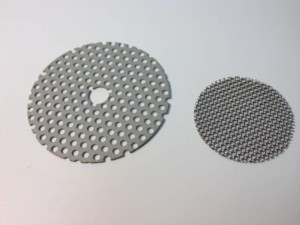 Applications & Industries
Just a few of the industries where wire cloth & metal mesh shims, stampings, washers, and spacers are used include:
Medical & Healthcare
Aerospace & Marine
Military and Defense Equipment
Fluid Processing Equipment
Construction Equipment
Mining Equipment
Architectural
Material Handling
Packaging
Compressors
Petrochemical
HVAC
Please contact us today!